Spineling
From Official Barotrauma Wiki
Data is potentially outdated
Last updated for version 1.0.9.0
The current game version is 1.0.21.0
Spineling

ID: Spineling
Stats
Health

50

Sight: 2
Hearing: 2
Armor

None

Weakpoints

Head (see values in Defense section)

Immunities

N/A

Vulnerabilities

N/A

Behavior
Walk speed

N/A

Swim speed

6 slow (12 fast)

Aggressive?

Always

Can Enter Submarine?

No

Drops
only 1 of the items marked with an asterisk * may drop at a time
Items
Chance
Alien Blood
100% (1/1)

Spineling's Spike

100% (1/1)

Spineling's Spike (+1)

25% (1/4)
The Spineling is a small creature of impressive agility and marksmanship, and one of the only creatures with a ranged attack.
Description
The Spineling is small and spindly, appearing similar to a dark dragonfly thanks to its twelve metallic-white spines and scales on its rear, but is more so a fin-less eel, capable of twisting on the spot to get the best shot with its plethora of natural harpoons.
In-Game
Spinelings are incredibly quick and capable of turning on the spot, making it challenging to hit them with Coilgun and Railgun weapons. The Spineling's only means of attack is to launch its spines akin to a Harpoon Gun, most often at submarines or unfortunate divers. The main danger of these spines is that they can easily penetrate multiple decks of a submarine, and reliably hit the crew on the inside, inflicting heavy Bleeding and panic. A Spineling will most often fire 1-2 spines at a time, but can easily fire up to 6 in rapid succession should it choose to do so. A Spineling's spines do not regenerate in any capacity.
Combat Strategies
The quick movements of the Spineling make it incredibly difficult to hit with slower submarine weaponry, such as the Chaingun. Additionally, due to its incredibly low Vitality using more expensive ammunition such as that of the Pulse Laser or Railgun would be considered wasteful. Instead, it is advised to use the Coilgun to dispatch large groups of Spineling.
Alternatively, small arms weapons such as the SMG or Revolver are equally viable against Spinelings due to their ease of use, low ammunition cost, and effective damage output. To maximize damage, it is important to aim for the head of the Spineling (see Defense for specific details).
Attacks
| Attack | Target type | Afflictions on hit | Context | Armor Penetration | Structure Damage | Duration | Cooldown | Kinetic Force |
| --- | --- | --- | --- | --- | --- | --- | --- | --- |
| Spike | Any | | Any | 20 | 10 | 0.1s | 1 | 0 |
Defense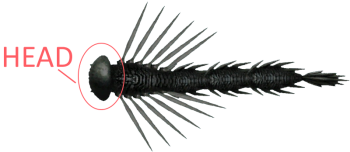 Variants
Media
Creatures
Pets
Cthulhu    •   Defense Bot    •   Huskified Storage Container    •   Orange Boy    •  

Error creating thumbnail: File missing

Peanut    •   Petraptor    •  

Error creating thumbnail: File missing

Psilotoad
Small
Crawler    •   Crawler Hatchling    •   Fractal Guardian (Steam Cannon Fractal Guardian   •   EMP Fractal Guardian)    •   Hammerhead Spawn    •   Human    •   Husk    •   Husked Crawler    •   Husked Human    •   Leucocyte    •   Moloch Baby    •   Mudraptor (Mudraptor Unarmored)    •   Mudraptor Hatchling    •   Mudraptor Veteran    •   Swarm Feeder    •   Terminal Cells   •   Tiger Thresher    •   Tiger Thresher Hatchling
Large
Black Moloch    •   Bone Thresher Crawler Broodmother   •   Giant Spineling    •   Golden Hammerhead    •   Hammerhead (Moping Jack)    •   Hammerhead Matriarch    •   Moloch    •   Spineling   •   Watcher
Abyssal
Charybdis    •   Endworm    •   Latcher
Ending

Spoilers

Ancient     •   Cyborg Worm     •   Guardian Repair Bot     •   Jove     •   Portal Guardian