Guardian Pod
From Official Barotrauma Wiki
Data is potentially outdated
Last updated for version 1.0.7.0
The current game version is 1.1.19.3
Guardian Pod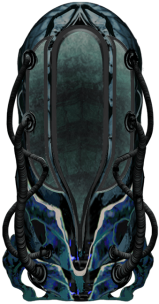 ---
Protective pod for Fractal Guardians.
Technical
Identifier
guardianpod
Categories
Alien
Tags
alien,guardianshelter
The Guardian Pod is an installation found in Alien Ruins. Guardian Pods will explode when destroyed, inflicting damage with falloff.
Function
Guardian Pods are containment pods used by Fractal Guardians. When they get under 30% vitality, Fractal Guardians will attempt to flee towards a Pod. Once there, they become concealed from other creatures and will heal all Internal Damage types (1.25/s). They are also immune to these afflictions while healing.
Guardian Pods can be destroyed using weapons or explosives, or by pressing the red button on the connected Alien Terminal after placing an


Alien Trinket,

Alien Ornament, or


Alien Curio inside.
Guardian Pods cannot be rewired.
Connection Panel
Connection Panel for Guardian Pod
Hover over pins to see their descriptions.
toggle

set_state

shutdown
Destroys the Guardian Pod when it receives a non-null and non-zero signal
| | | |
| --- | --- | --- |
| state_out | | |
Requires:

Screwdriver
Media