Alien Pump
From Official Barotrauma Wiki
Data is potentially outdated
Last updated for an unknown version
The current game version is 1.1.19.3
Stub Notes: Add page content.
Alien Pump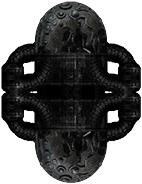 Technical
Identifier
Categories
Alien
The Alien Pump is an Alien installation.
Function
Connection Panel
Connection Panel for Alien Pump
Hover over pins to see their descriptions.
Power_In

Toggle_State

Set_State

Set_Speed

Set_Targetlevel
Connecting a power source to this input will supply the pump with power.
Turns the pump on/off whenever a signal is received.
Turns the pump off when a signal "0" is received, and activates it when any other signal is received.
Sets the speed of the pump to the received value. The value is clamped between -100.0 and 100.0.
Sets the target water level in the room to the received value, clamped between -100 and +100. -100 being 0% full. 0 being 50% full, and 100 being 100% full.
Requires:

Screwdriver
Media