Gravity Sphere
From Official Barotrauma Wiki
Data is potentially outdated
Last updated for version 0.15.13.0
The current game version is 0.18.15.2
Stub Notes: Add media content.
Gravity Sphere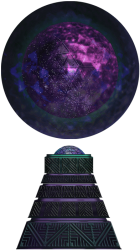 ID: gravitysphere
Generates a strong, artificial gravity field.
Alien
The Gravity Sphere is an Alien installation found in Alien Ruins.
Function
When active, the Gravity Sphere will attract towards it any character standing within 10 meters of it.
Within 5 meters, characters will suffer

Internal Damage (3/s)*.
Within 3 meters, characters will suffer

Internal Damage (11/s)*.
Gravity Spheres are connected to Alien Terminals which can toggle them on or off.
Connection panel
Connection Panel for Gravity Sphere
Hover over pins to see their descriptions.
toggle

set_state

state_out
Toggles sphere state on a non-zero signal.
Sets the sphere active or inactive depending on the signal value (0 = inactive, non-zero = active).
Sends a signal of 1 if the sphere is active and 0 if it is inactive.
Media