Alien Coil
From Official Barotrauma Wiki
Data is potentially outdated
Last updated for version 1.0.7.0
The current game version is 1.1.19.3
Alien Coil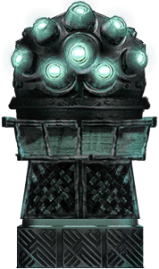 ---
Produces a harmful electrical shock across spread through the nearby walls.
Technical
Identifier
aliencoil
Categories
Alien
Tags
alien
The Alien Coil is an Alien installation found in Alien Ruins.
Function
Alien Coils emit an electrical shock when activated, usually by Alien Motion Sensors, stunning creatures and unfortunate divers for a short time and burning them. The shock only travels a limited length, but can travel further along walls.
They cannot be rewired.
Connection Panel
Connection Panel for Alien Coil
Hover over pins to see their descriptions.
Trigger_In

Shutdown

Power_In
Activates the device when a signal of 1 is supplied.
Shuts the device down when a signal of 1 is supplied
Power input for the device.
Requires:

Screwdriver
Media