Typhon
From Official Barotrauma Wiki
Data is potentially outdated
Last updated for version 0.14.9.1
The current game version is 0.18.12.0
Typhon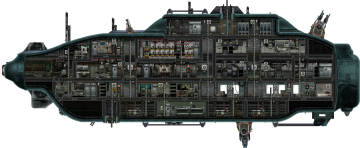 General Information
Class

Attack

Price

11,500 mk

Recommended Crew

4 - 9

Recommended Experience

Intermediate

Cargo Capacity

8 crates

Dimensions: 40 x 14 m

Hull Volume: 3,876,096

Mobility
Max Horizontal Speed

23 km/h

Max Descent Speed

8 km/h

Weaponry
Coilguns

2

Railguns

1

Chainguns

None

Pulse Lasers

None

Electrical Discharge Coils

1

Depth Charge Tubes

1

Hardpoints (Free)

1

Reactor
Fuel Consumption Rate

0.25

Max Power Output

5,000 kW

Meltdown Delay

30

Fire Delay

10
| | | |
| --- | --- | --- |
| " | Typhon class subs are known for their brutish appearance, reasonable array of light and heavy firepower, and their general dependability. Any captain should be aware of their poor rate of descent and unimpressive top speed. | " |
| | ~ In-game description | |
The Typhon is an Attack class submarine.
Notable Features
While the medical bay does contain a Medical Fabricator, unlike its successor the Typhon 2 it lacks a Toxin Cabinet.
Layout
Wi-Fi Channels
This submarine does not use Wi-Fi
Trivia
The Typhon has a variant submarine, the Typhon 2, which shares the same exterior shell.
Typhon was named after the gargantuan serpentine horror in greek mythology, who fought a cataclysmic battle against Zeus for supremacy of the cosmos.
Changelog