Remora
From Official Barotrauma Wiki
Data is up-to-date
Last updated for version 1.1.19.3
The current game version is 1.1.19.3
| | | |
| --- | --- | --- |
| " | A range of customization options are available for Remora. In this model, some of the main hull space has been replaced by a detachable ballast and a remote-controlled drone. A large crew is needed to operate this submarine. | " |
| | –In-game description | |
The Remora is a Scout class submarine.
Notable Features
The Remora is notable for having a large drone with a coilgun, a toggleable auxiliary engine, and having no dedicated gunnery compartment. The coilguns' periscopes and loaders are installed near the edge of the hull. Starting stock, the only gun on the bottom of the Remora is the coilgun mounted to the Drone. There is a Turret Hardpoint on the bottom left of the Ballast Tank.
The medical bay features both a Medical Fabricator and a Toxin Cabinet.
Wi-Fi Channels
101 - Toggle Drone Docking Port Doors
401 - Toggle Aux Engine Power Relay
601 - Drone Engine Force
602 - Drone Ballast Target Level
701 - Drone Turret Position
702 - Drone Turret Trigger
801 - Toggle Drone Docking Port
901 - Drone Transducer Data
Drone
The Remora has a drone attached to the front of its Airlock area. It can be controlled remotely, and wields a single Coilgun.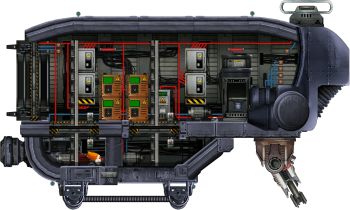 Trivia
The Remora used to be classed as a Deep Diver.
Changelog