Kastrull
From Official Barotrauma Wiki
Data is potentially outdated
Last updated for version 0.20.16.1
The current game version is 1.1.19.3
| | | |
| --- | --- | --- |
| " | The Kastrull is a dependable attack sub class bringing plenty of firepower to any fight, and although it's not very nimble, it does sport a drone gunship as standard. Keep in mind that with its experimental open ballast tanks, low tolerance to flooding and numerous crew stations, a large, experienced crew will get the most out of this sub. | " |
| | –In-game description | |
The Kastrull is an Attack class submarine.
Notable Features
The Kastrull supports a Drone with a Coilgun. It wields an impressive barrage, up to 8 weapons including the one on the drone, 5 of which can be manned by gunners. The only constant blindspot is the rear. This makes it the most heavily armed gunship in the seas of Europa.
The Kastrull's reactor consumes fuel 50% faster than normal, and its maximum output is only 5,000kw. It's maximum maneuvering load is approximately 4,600kw, meaning it requires most of the reactor output to move full speed. It is also infamous for its open, internal ballast tanks.
The medical bay features both a Medical Fabricator and a Toxin Cabinet.
Wi-Fi Channels
501 - Toggle Drone Docking Hatch
502 - Drone Ballast Target Level
503 - Drone Engine Force
504 - Drone Turret Trigger
505 - Drone Turret Position
506 - Drone Transducer Data
508 - Average Drone Battery Charge %
Drone
A good reason that a Captain would want a Kastrull is the gun drone that rests underneath the submarine. It can be controlled from the Drone Control next to the Bridge and can function as a great away-team backup since it wields a single Coilgun.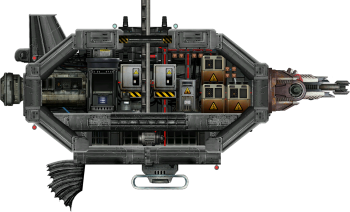 Trivia
In Swedish, a kastrull is translated as saucepan or casserole. Considering the lid-less ballasts, the name is fitting. The Kastrull ballast section is a big heavy casserole without a lid.
Changelog