Herja
From Official Barotrauma Wiki
Data is potentially outdated
Last updated for version 0.16.6.1
The current game version is 0.18.12.0
Herja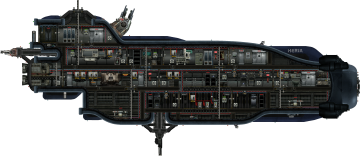 General Information
Class

Attack

Price

15,300 mk

Recommended Crew

4 - 7

Recommended Experience

Intermediate

Cargo Capacity

4 Crates

Dimensions: 41 x 14 m

Hull Volume: TBD

Mobility
Max Horizontal Speed

16 km/h

Max Descent Speed

15 km/h

Weaponry
Coilguns

1

Railguns

1

Chainguns

1

Pulse Lasers

None

Electrical Discharge Coils

1

Depth Charge Tubes

1

Hardpoints (Free)

1

Reactor
Fuel Consumption Rate

0.2

Max Power Output

4,800 kW

Meltdown Delay

120

Fire Delay

20
| | | |
| --- | --- | --- |
| " | With its varied weaponry, Herja submarines are equipped for encounters against most expected and unexpected run-ins with the denizens of Europa. A reliable workhorse in the Coalition fleet. If a monster nest has been cleared nearby, chances are high that it was a Herja that did the deed. | " |
| | ~ In-game description | |
The Herja is an Attack class submarine.
Notable Features
An angry and aggressive little attack boat, the herja has all the facilities needed to enter the fray. With an upgraded hardpoint it has both excellent gun coverage and a superb gunnery compartment with good overview. It is a small and angry little ship, but being a gunship it lacks facilities for medical crafting.
Layout
Wi-Fi Channels
Trivia
Herja means old norse for attack, devastation, waging war, which is fitting for this ship. The opposite is Verja, which means defense or protection.
Changelog