Hello everyone!
The submarine building competition we had with Summa Barologicae has concluded, and the judges Chad Husk and TorpedoMike have selected the winner. The winning sub will be the foundation of the first Big Rig class vanilla sub (that is, a cargo hauler), to be added to Barotrauma next year.
Below are comments from the judges on all the submarines that entered – from our two designers, and from SB's Evan_ – and here's the spec the competition subs were built to, as a reminder:
"Big Rigs, as the name suggests, are the no-frills, rough and ready Europan version of a semi-trailer. With this in mind, they might not have the exterior looks of a sports car, and likewise, one might imagine their interiors could be quite rough and utilitarian in layout."
A Big Rig needs to be able to haul a few cargo containers (WIP version here, needed to use all the competition subs as Workshop items). The specification also included other limitations, such as speed, firepower, crew size and overall part count.
CH-15 'Buffalo'
by Wave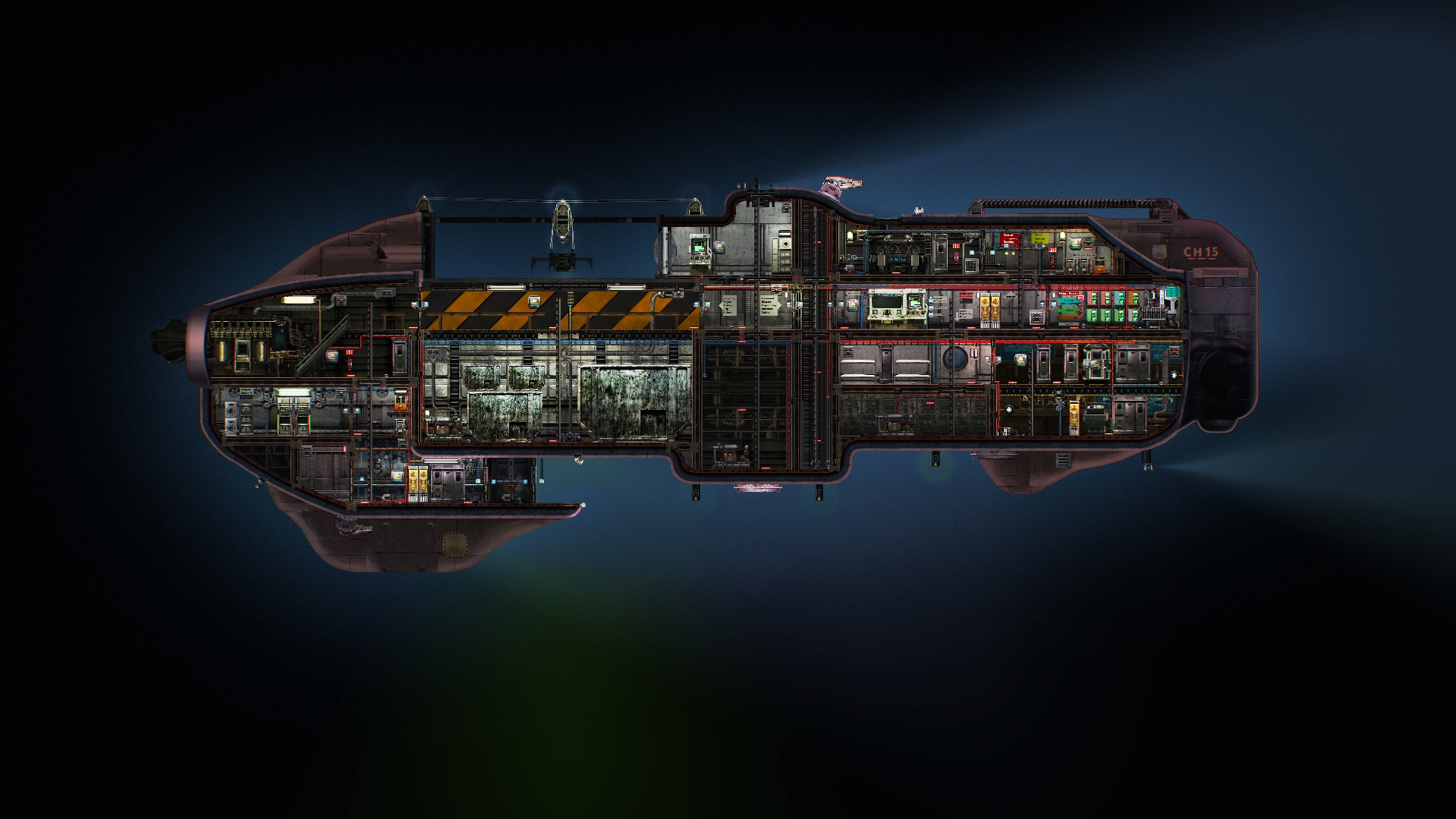 Evan: Industrial hauling at it's finest, zero compromises. The sub leaves no doubt that it's built around it's cargo-area. Comfort and ease of access of the crew was sacrificed for utilitarian reasons. What else did they expect? They came to Europa.
Devs: Rough, utilitarian-looking sub (love it!) with a huge monolithic ballast (what madman built this!?). Feels slow and heavy as it should, sinks like a stone if it takes on water, and the cargo crane detail is lovely. Electrics have a lot of great little features and innovations and the wiring is neat overall. An interesting sub with tons of potential, worth taking out on a delivery run for sure.
Find the CH-15 'Buffalo' on Steam Workshop.
Gauoli
by MrMountainMan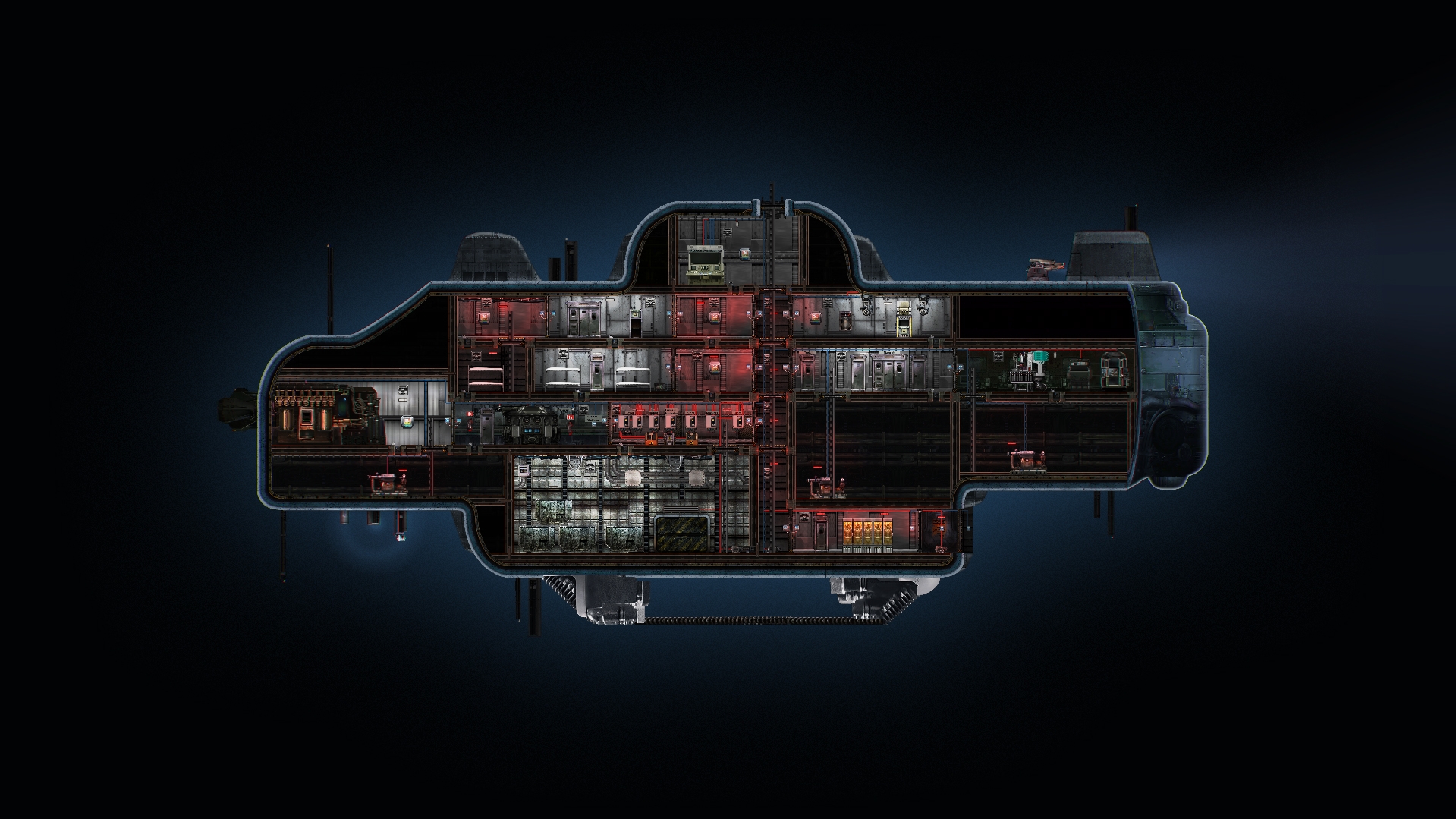 Evan: Efficiency? Wha'? The pumps take in water very efficiently. Otherwise, it's a hauler not a luxury liner, and the design makes sure no one confuses it with one. It's numerous empty spaces and spartan interior make it an ideal smuggling vessel – no one will look twice.
Devs: The Gauoli handles like a sports car – hard to really hurt it, but once you do, the huge ballast tanks make it hard to recover. Undecorated look built with good overall attention to detail and adherence to our spec about equipment, but there are some oversights in layout resulting in void spaces. Neat wiring and good junction box setup, this sub is engineer-friendly but currently leaves something to be desired for the captain. Looking forward to seeing how it might evolve!
HBN-4
by Rabbit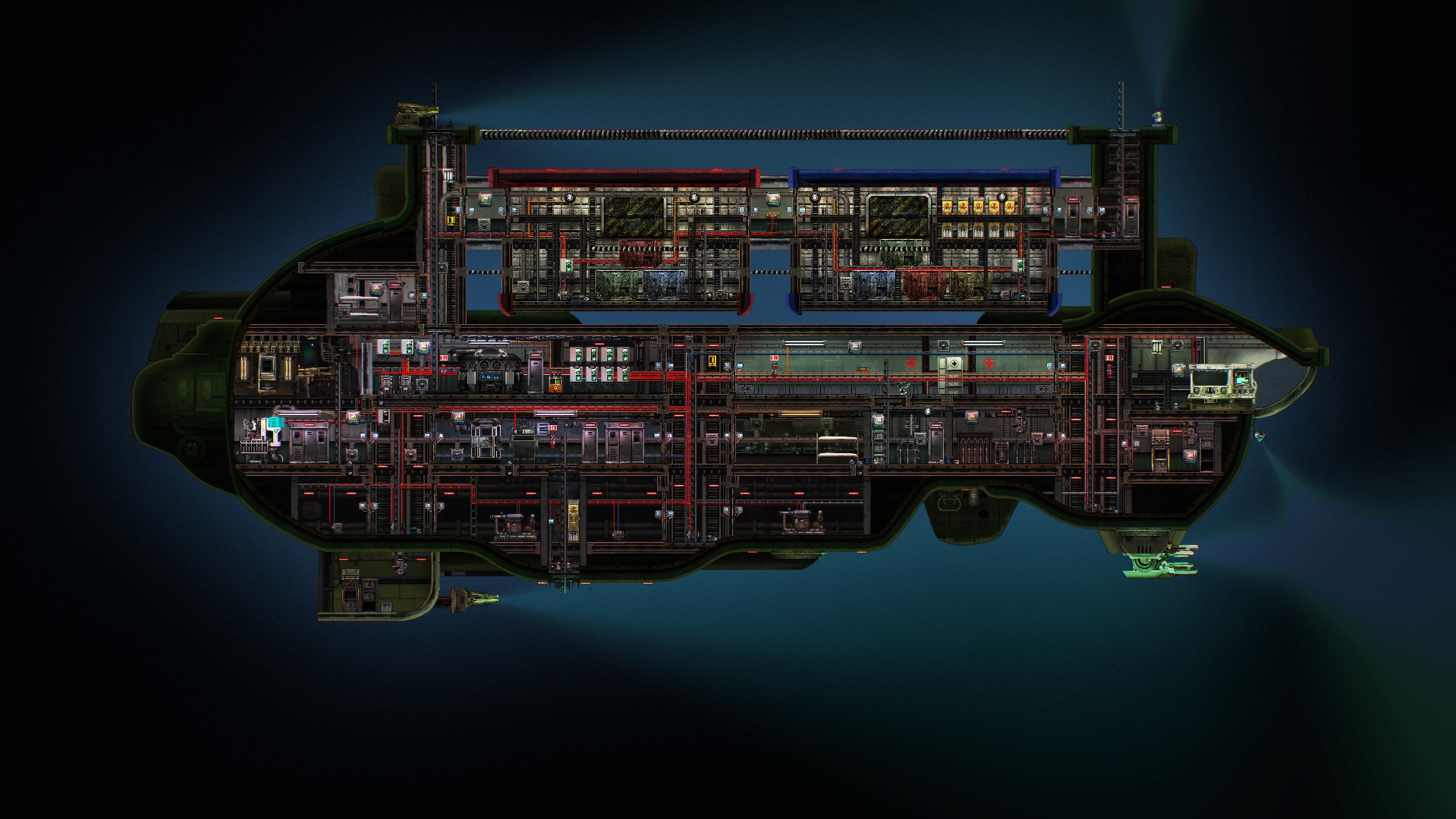 Evan: Got sensitive cargo? Look no further. Load it in here! You can keep an eye on it, while it'll be safely separated from the prying eyes of the crew. And you can grab the most expensive bits and leave trough an airlock if anything goes south. But don't pick the cheapest crew, this one calls for seasoned sea-dogs.
Devs: Surprisingly easy to navigate. The railgun gives it a little too much overall firepower, but the externally operated coilgun is a nice original idea. Extremely neat wiring, some issues with power due to junction box management. The cargo holds are cleverly positioned, and it's overall a very imaginative design…however, it doesn't look like a stock sub, so adapting the HBN-4 for one, while tempting, might prove a challenge. Still definitely seaworthy, give it a try!
Find the HBN-4 on Steam Workshop.
ISIS Maersk
by Hurvajzl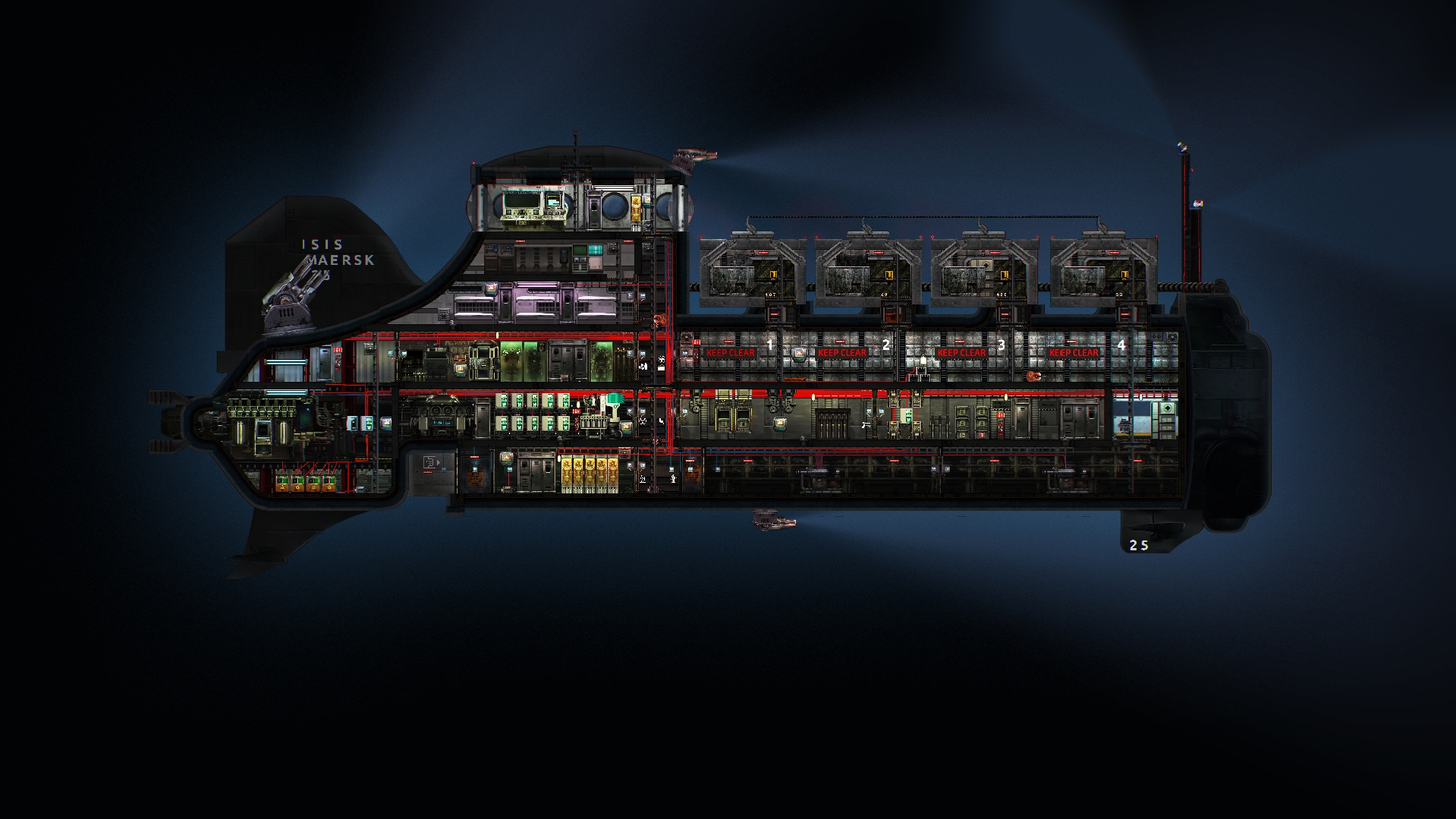 Evan: I bet what they don't tell you in the commercial is that it was a prisoner transport ship. Containers, huhh? I know a cell if I see one. They open to an empty space where runners can be shot easily. And the ship is still packed with enough small arms to win a regional conflict or two with. It's still good if you have more crew than volume to transport – just don't forget to disinfect the containers!
Devs: A unique approach to the cargo space, with some great details in the cargo area. While a lot of thought was clearly put in the cargo part of the sub, appropriately, the vessel is also designed well in that water flows to designated bilge areas and doesn't accumulate in rooms. With better compartmentalization to prevent sinking when it does get flooded, this could grow into a very reliable sub.
Tuna
by Perald Baxter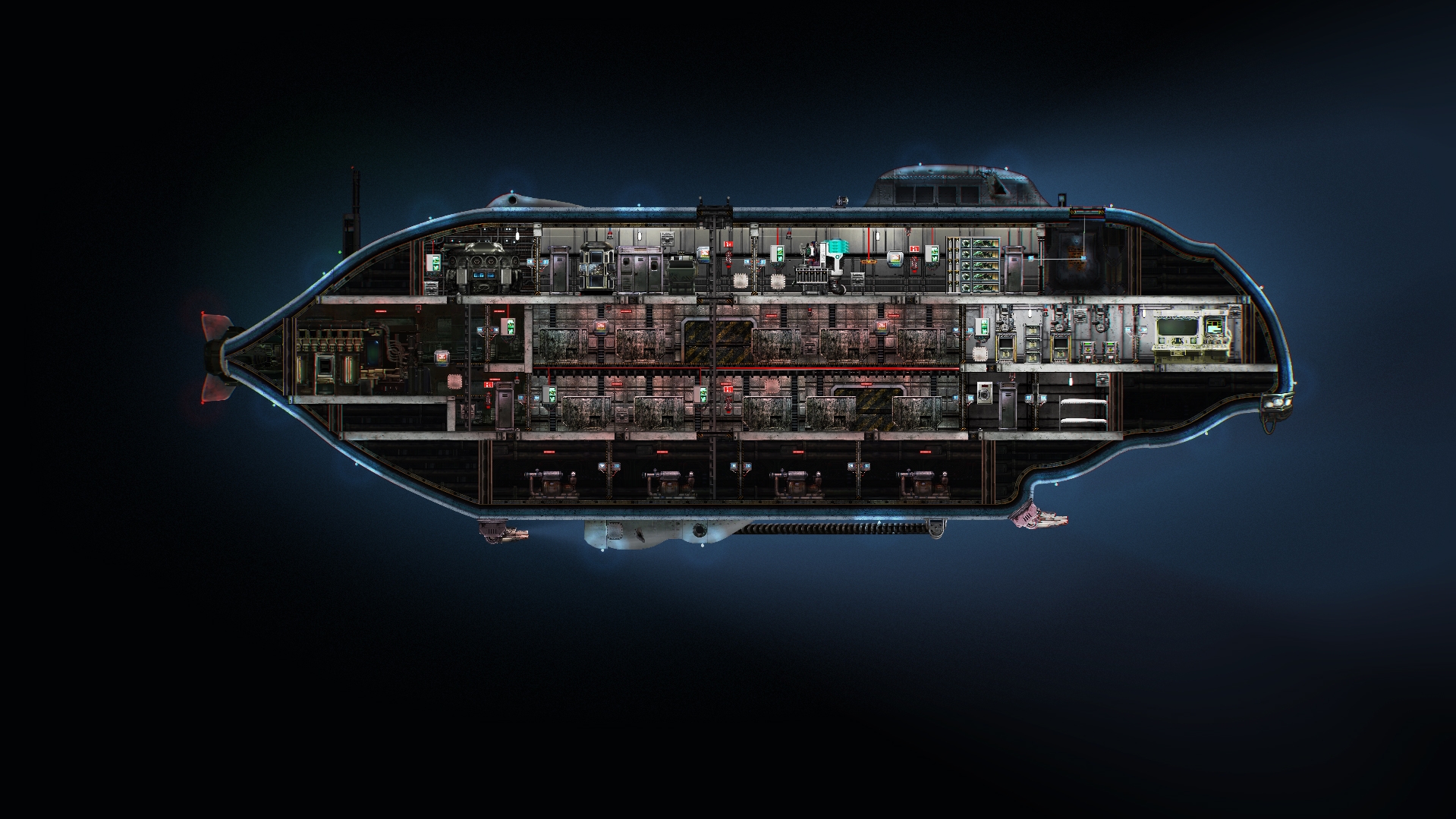 Evan: I wanna' know who built this, and arrest them. I bet we'd find a huge smuggler network. Just look! Two downward pointing coils so it can hide while hugging the ceiling. Four big pumps so it can sink to invisibility very fast. Shiny bright look to not raise suspicion. And the volume of the hidden compartments rival the public central one. And they smell of opiates.
Devs: What you see is what you get with the Tuna. Aside from some awkwardness in navigation, it's a straight-forward boat with a strong focus on the new cargo area, designed here in a nice open fashion and placed at the center of the vessel. It looks like it sounds: the fish-like shape is very pretty – perhaps too pretty for our heavy metal worshiping designers – with its glimmering exterior lights.
Chad Husk's 2nd pick: Resilience SC 41K7
by XL~Combo
Evan: Do you often transport credits and diamonds? Don't buy this ship then, for everyone will know. Double walls, considerable firepower, small but secure hold, look of a military brick. Pin it to the floor and raid it – there be values!
Devs: Resilience has a look that particularly impressed Chad Husk – brutal, boxy, and very much matching the intended spirit of the Big Rig class. Nice lighting, layout, neat wiring and some effective kitbashing rounded the sub out nicely. The large number of double hulls unfortunately would have meant a lot of work to reconfigure the sub for a better balanced play experience. Still, we expect to see great things from this sub builder in the future.
Find the Resilience SC 41K7 on Steam Workshop!
TorpedoMike's 2nd pick: Carina
by Singularia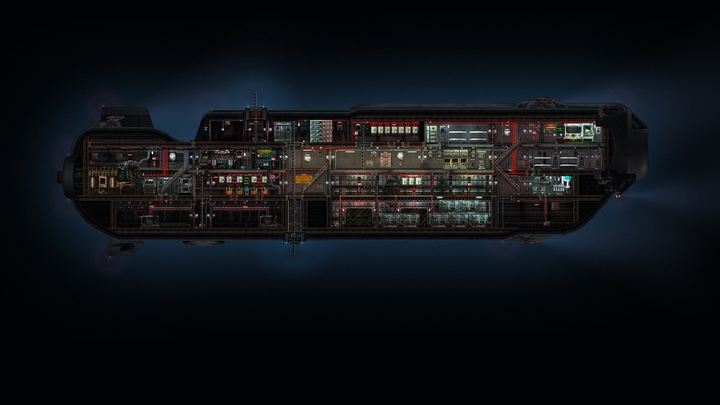 Evan: I'm always impressed when a sub has the shape and look of an actual submarine, yet no segment of it looks dull. Leaving the crew-area and entering the engineering section feels like leaving a shiny city for the rough suburbs. It really makes me feel our officers are of a different class.
Devs: The Carina is, in a word, solid. It handles like one would expect from a sub like this – easy to navigate, even though not floodproof. It meets the specification we laid out for the Big Rig admirably, lighting is pleasantly grim, wiring is neat and overall finish looks pretty alright. A coherent vessel with visual language similar to production subs: not fancy, but we were impressed.
Find the Carina on Steam Workshop.
WINNER: R-29
by rav2n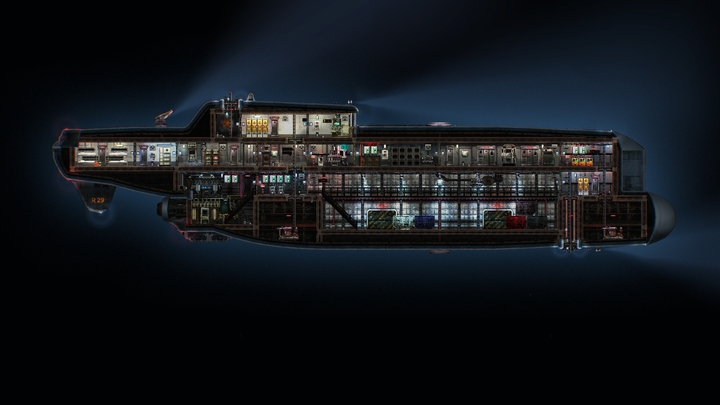 Evan: Now that's a proper cargohold ratio for a freighter! The rest of the layout is straightforward and easy to navigate. It feels plain like stock-ships, even with some lovely custom decorations. And it has only one coilgun? I'm sold.
Devs: The two runner-ups were already superb subs, but the R-29 takes the cake with its industrial appearance and practical layout. Extra points for creating alternative sprites by making the real ones invisible and for the nice lighting, especially in the cargo bay. The double walls in some places mean there will be some modifications we need to make, but the R-29 is going to translate to the first vanilla cargo hauler quite nicely. Well done!
Congratulations to the winner, and to everyone who participated! Designing a new class of submarines is a lot more fun this way, even if it is a little daunting that our players have the skill to outperform us in many areas of the game. So, again, big thanks to all participants for contributing to Barotrauma and to Summa Barologicae for hosting the event.
With the competition concluded, Steam Winter Sale on and the hotfix to the Beasts Within update finally out earlier this week, we're taking a break for Christmas and New Year. We wish you all happy holidays, see you in January!